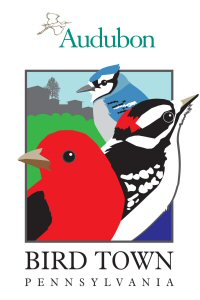 Under the leadership of the Wyncote Audubon Society in March, 2015. This followed a presentation by the Abington High School Earth Serve Club who explained the value of Bird Town at a meeting of the Public Affairs committee.

The Bird Town program, through the Audubon Society, provides the tools for residents, schools and businesses to make ecologically-friendly decisions, conserving energy and saving money. The Bird Town program promotes efforts to create communities where everyone is a steward of nature in their backyard and beyond.
Other area towns include Upper Moreland, Upper Salford, and Marlborough in Montgomery County, Newtown Township, Solebury, Falls Township, and Springfield Township in Bucks County, and Allentown, Lower Macungie, Salisbury, and Bethlehem in Lehigh County, and Longswamp Township in Berks County. Note that this is a September 2014 list from the Audubon Society website.