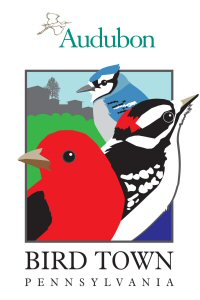 Morrisville Borough has been officially designated as a Bird Town, and has accomplished a great deal. Under the leadership of a very enthusiastic teacher and an energetic Master Gardener, the MV Aviators (afterschool green club at Morrisville Intermediate) have presented at an Environmental Symposium in Maryland, been present for Peregrine banding in Harrisburg, and have created a courtyard garden that thrives with life.

The Audubon Society provides the tools for residents, schools and businesses to make ecologically-friendly decisions, conserving energy and saving money. The Bird Town program promotes efforts to create communities where everyone is a steward of nature in their backyard and beyond.

The power of this program comes from individuals taking actions on their landscape and in their home to be greener, experience nature every day, and contribute the community's efforts to minimize environmental impacts. For example, by planting native plants and registering your property with Audubon, valuable data will be added to the town's scorecard that will continue to improve each year.

You and your family can become key players in the world of bird conservation! As neighborhoods work together, corridors of improved habitat will welcome returning spring migrants, letting us know we are on the right path!
Other area towns include Upper Moreland, Upper Salford, and Marlborough in Montgomery County, Newtown Township, Solebury, Falls Township, and Springfield Township in Bucks County, and Allentown, Lower Macungie, Salisbury, and Bethlehem in Lehigh County, and Longswamp Township in Berks County. Note that this is a September 2014 list from the Audubon Society website.