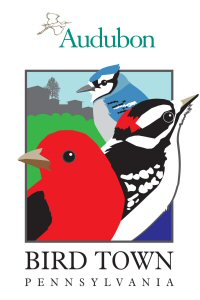 The mission of Radnor Bird Town is to "create a sustainable driver for long term environmental stewardship across the township by creating a linkage of birds to the natural environment and engaging people in conversation."

Bird Towns stimulate efforts to restore valuable ecosystem services to create a culture of conservation where everyone is a potential steward of nature in their backyard and beyond.

Radnor Bird Town is a partnership between The Audubon Society of Pennsylvania, the Radnor Conservancy, and the Radnor Township Environmental Advisory Council
Other area towns include Upper Moreland, Upper Salford, and Marlborough in Montgomery County, Newtown Township, Solebury, Falls Township, and Springfield Township in Bucks County, and Allentown, Lower Macungie, Salisbury, and Bethlehem in Lehigh County, and Longswamp Township in Berks County. Note that this is a September 2014 list from the Audubon Society website.