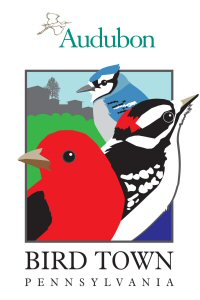 Upper Dublin Township officially became an Audubon Bird Town in Pennsylvania in February 2015. Bird Town is a working partnership of the Audubon Society and municipalities in Pennsylvania to promote conservation and community-based actions to create a healthy, more sustainable environment for birds and people.

A Bird Town makes efforts to restore valuable ecosystem services to create a culture of conservation where everyone is a potential steward of nature in their backyard and beyond.

Upper Dublin Township staff, along with the Environmental Protection Advisory Board, is working with the Audubon Society to increase "green" living, promote a culture of conservation, and provide positive social, economic, and ecological outcomes.

Further information can be found at the Upper Dublin Township Environment Page.
Other area towns include Upper Moreland, Upper Salford, and Marlborough in Montgomery County, Newtown Township, Solebury, Falls Township, and Springfield Township in Bucks County, and Allentown, Lower Macungie, Salisbury, and Bethlehem in Lehigh County, and Longswamp Township in Berks County. Note that this is a September 2014 list from the Audubon Society website.