Guide to the Pocono Mountains
Outdoor Adventure in the Poconos Mountains
Article by Julie Barker, Guest Columnist
The Poconos Mountain of North Pennsylvania offer a fantastic getaway from anyone looking for a day out in the great outdoors. Many people also choose to vacation here, and there are tons of activities to choose from to keep you entertained. Read one to find out about three ways to enjoy this fantastic natural area.
Hiking: Exploring the Mountains on Foot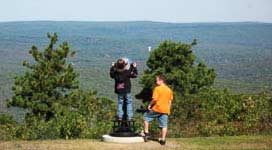 The Poconos Mountains are best explored by foot, allowing you to take in all the views and get up close and personal with all the natural beauty on offer. There are plenty of specially marked routes that help you to start your adventures, and you are welcome to ramble off across the countryside to find your own special place to enjoy the great outdoors. The Hickory Run State Park is a fantastic place to start, lying in the western foothills of the Poconos Mountains. It covers an area of almost 16,000 acres, and there are over 40 miles of marked hiking trails for you to enjoy. Here you can also see the Boulder Field, and area of the park that is covered with boulders, and is regarded as a National Natural Landmark. The Lehigh Gorge State Park also has some great hiking trails, along which are some fantastic waterfalls, including the popular Bushkill Falls.
These two state parks offer great hiking opportunity around the Poconos Mountains, but there are not the only places to hike in the region, so pick yourself up a map and start seeing for yourself what is out there to explore. Once you have picked your route and how long you are going for, you need to ready yourself for the adventure ahead. That said, gearing up for a mountain hike doesn't have to be intimidating, but before you set off into the wilderness you should do a bit of preparation. A sturdy pair of hiking boots are essential, as is a day pack with a few items to keep you safe. Things like a first aid kit, bottle of water, mobile phone, a torch, and waterproof clothing should always be taken with you. Also, always tell somebody back home what route you are taking and when you are expected to return, so that they can call the emergency services if needed.
Cycling: Pedaling through the Trails
If you want to move a little faster, then why not hop on the saddle and ride a bike through the off-road tracks that meander through the countryside surrounding the Poconos Mountains. Whether you bring your own bike or need to rent a bicycle, the facilities are available to you. The Lehigh Gorge Trail is a great place to start, and accessible to everyone thank to its gentle downhill slope that means your legs will not be worked too hard! The entire trail is 36 miles long, combining the Lehigh Gorge Trail and the Diamond Trail, which can be achieved in a day quite comfortably. It usually takes between 3 and 5 hours, but with a few stops to enjoy the scenery and have a bite to eat, riding the bike trail at leisure can easily take all day. If you want something a bit more adventurous, the Blue Mountain Trail is 22 miles long, but with plenty of side trails to explore, so pack your camping gear and make a weekend of it.
Skiing and Snowboarding: Sliding down the Mountain Face
When winter time rolls around and it seems just a bit too cold for cycling or hiking, then it is time to hit the slopes at the Jack Frost and Big Boulder ski areas. If you are a skier, then the Jack Frost ski area is the place for you, and if you snowboard then head on over to Big Boulder. Jack Frost has a higher summit elevation and lower base elevation, giving the area 600 feet of vertical drop. Big Boulder is a heaven for snowboarders, with 50% of its terrain being used for park features, with half pipes, kickers, and rails for practicing tricks. The ski areas are located near to Blakeslee, Pennsylvania, and usually open up in December and close in April.
Take your Pick!
We are really only touching the surface here when it comes to the range of activities you can enjoy in the Poconos Mountains and surrounding areas. Activities like rafting, fishing, golfing, and boating can all be enjoyed here, so take your pick and start enjoying the Poconos Mountains!
Great Stuff from Pocono Mountains Visitors Bureau
What To Do
Calendar of Events
About the Poconos
Places to Stay